Looks like troubled train wreck Lindsay Lohan wasn't resolving to put an end to her wild ways as she welcomed the arrival of 2010 on the posh island of St. Bart's.
In a New Year's tweet, Lohan wished her fans a "blessed new year," and said "Everyone get ready for more (but positive) LOHAN MAYHEM!!!" in the coming year.
We don't even want to know what that means.
In 2009, Linds battled estranged dad Michael, broke up with Samantha Ronson, became a complete fashion disaster, hooked up with lots of dudes and cried a lot.
If this year is anything like that, watch out!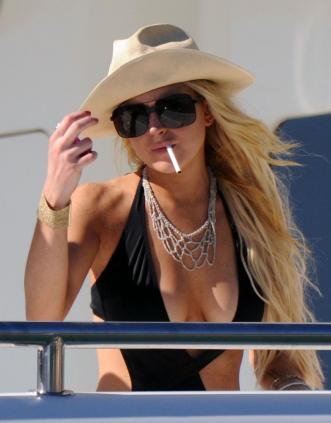 MORE OF THE SAME: It's just a hunch, but somehow we imagine 2010 version of Lindsay Lohan will be a lot like the 2009 model. A very skinny, unhealthy model.
In a slightly quieter mood Saturday, the so-called actress and designer resolved "to stop letting the lucky few that have my heart, try2constantly tear me down."
Well then. That clears that up.
She continues: "2010 is about moving forward, not backwards. Leaving the bad (people, habbits, and negative energy behind) time to make changes-right!? :)"
Very well said, Lindsay. We couldn't agree more. But remember that old "habbits" (such as forgetting to put on pants or eat for weeks at a time) die hard.